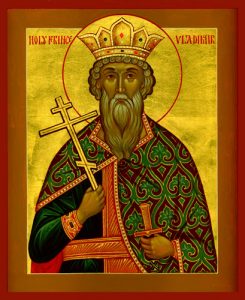 People sometimes wonder why the Orthodox Church commemorates saints of the past during our service of worship to the One True God: the Father, Son and Holy Spirit. It is because they serve as examples to us of how we may better fulfill the commandments of Christ. In their victory, we are made stronger; we are edified; and we are taught.
On July 15 (OS), the Church remembers St. Vladimir, the Baptizer of Russia! Vladimir was a devout pagan and a great prince. But upon finding out that other faiths existed beyond his own paganism, he decided to send his envoys out into the world to find out what was true faith on earth. His envoys met with Muslims, but felt that there was no joy among them, and that their faith was very mechanical. The envoys also met with Jews and visited Rome, but were still unimpressed.
Everything changed, however, when the envoys arrived in Constantinople. Upon attending Divine Liturgy in Hagia Sophia, the envoys said, "We no longer knew whether we were in heaven or on earth." Taking the word of his envoys, St. Vladimir had himself and his nation baptized into the Orthodox Christian Church. St. Vladimir changed completely after his baptism. He destroyed all the pagan statues that stood in Kievan Rus', and replaced them with churches. He also attempted to live in peace as much as possible with his neighbors and had only one wife.
St. Vladimir teaches us all, that whether we are born into a life in Christ, or come to the faith as adults through study and research, we may still be evangelizers, teachers, priests or confessors of the faith! Christ commanded his disciples to Go forth and baptize all nations. St. Vladimir did exactly that when he baptized his nation into Christ.
Such great evangelical acts should be remembered, not buried as old history. We are strengthened when we realize that the Church is built upon the foundation of Christ and increased through the sacrifices of the faithful through the years. We are diminished when our worship is so temporal as to not only conform to the current culture, but to reject even remembering that which came before us.
I've never baptized a nation. I probably never will. But through the example of St. Vladimir, I can remember that the Great Commission was literal; that my responsibilities do not end at the door of my parish; and that every person who comes to the faith, no matter what their past life was, is capable of doing great deeds in the name of the Father and the Son and the Holy Spirit, the undivided Trinity Who has saved us!